Good Green Vitality Bar
Green means Go! Our Good Green Vitality Multivitamin Bars are packed with plant-based goodness: superfoods, herbs, fibre, micro biotics, adaptogens and more. Every bite supports a healthy lifestyle full of vitality. An all-in-one nutritional super-boost for when you're on the go.
HOW TO USE
Good Green Vitality Bars can be enjoyed any time of the day. Take as a simple on-the-go snack, when you need something tasty yet nutritious to keep you satisfied. 
SUBSCRIPTION INFO
Never run out! Our monthly subscription delivers your order every 12 or 30 days. You can cancel your subscription at any time.
Planted with benefits
VITALITY & BALANCE
Packed with superfoods, B vitamins, coenzyme Q10 and much more. Good Green Vitality bars support energy production, and a healthy lifestyle full of vitality.
IMMUNE SUPPORT
Your immune system is always working overtime. With vitamins A, C, D and E plus zinc, magnesium, antioxidants and many more immune-supportive ingredients. Good Green Vitality Bars offer a helping hand in your first line of defence.
BETTER DIGESTION
Supporting a healthy digestive system, Good Green Vitality bars are high in fibre, with the additional benefits of dietary enzymes and a range of digestive-supporting herbs and plants including ginger, liquorice, dandelion and milk thistle.
Eat Your Greens, Wherever You Are
CONVENIENT
An all-in-one nutritional super-boost for when you're on the go. Every bar contains half a serve of Good Green Vitality for comprehensive nutritional support. 
COMPLETE
A pure and powerful source of nutrition for everyday life. Every bite supports digestion, healthier-looking skin and a more robust immune system.
EFFECTIVE
We select our ingredients for maximum efficacy. Good Green Vitality Bars are the perfect way to satisfy your hunger and make a serious contribution to your daily nutrition. 
CLEAN
Everything you need, and nothing you don't. No fillers, no artificial flavours, no preservatives. Good Green Vitality Bars focus on good nutrition and on avoiding the bad stuff.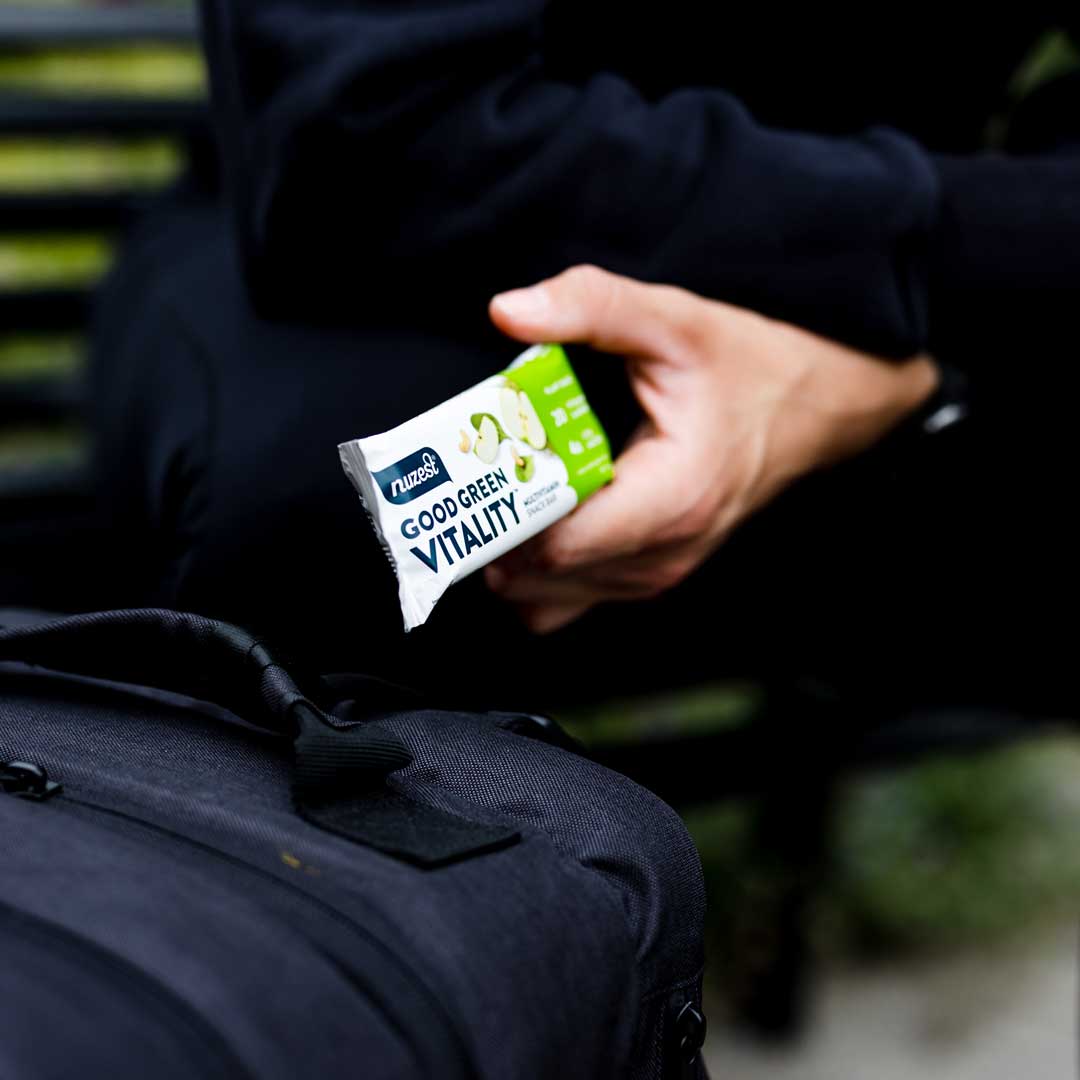 The best the planet has to offer
Get to know our down-to-earth ingredients.
Vitamin A
Amount: 800μg RE
While many supplements only use Beta-carotene, we choose a combination of Retinyl Palmitate and mixed natural carotenoids. This ensures readily available, easily absorbed retinol. Vitamin A helps to support normal vision, immune function, mucous membranes and iron utilization.
Vitamin D3
Amount: 20μg
While most vegan products supply D2 as it's easier to come by in plants, the evidence shows that it's actually D3 – the type our bodies make when exposed to sunlight - that promotes better health. We searched the world and landed on Lichen; a vegan source of Vidamin D3 that's bioidentical to what our bodies produce naturally. D3 is essential for bone health, helping us absorb both calcium and phosphorus. It also plays a role in cardiovascular function and a healthy inflammatory response.
Vitamin E
Amount: 15mg α-TE
We included a mixed Vitamin E blend, including all eight tocopherols and tocotrienols, for maximum therapeutic benefit. The body uses vitamin E as an antioxidant to protect cells and DNA from oxidative stress. Vitamin E also supports cardiovascular function; promoting heart health, and helps to modulate immune system.
Vitamin B12
Amount: 100μg
Unlike the commonly used, synthetic Cyanocobalamin, Methylcobalamin is the naturally occurring form of B12 found in both our bodies and food, and is directly used for methylation which allows for a plethora of benefits, including DNA repair and hormone regulation. We require B12 in order to get energy from our food.
Turmeric
Amount: 200mg (4:1)
A high potency extract from the rhizome of Curcuma longa Form: Beneficial curcuminoids are found in the turmeric roots and rhizome of the Curcuma plant. We select a high potency extract as it allows for greater amounts of active compounds. Function: The key benefits of the various curcuminoids in turmeric include anti-inflammatory and antioxidant activity, immune function and reduced pain and symptoms of arthritis and inflammatory skin conditions.
Alpha Lipoic Acid
Amount : 70mg
R, S Alpha-lipoic acid Form: R, S Alpha-lipoic acid is made from a mix of both R (natural) and S (unnatural) lipoic acid, with research suggesting this form enhances easy absorption and usage in the body. Function: An antioxidant, R, S Alpha-lipoic acid is known to help improve body composition, support blood sugar regulation, reduce inflammation, and improve neurological health.
Kelp
Amount: 195mg (5:1)
Whole, dried Fucus vesiculosus, as a natural source of Iodine. Form: An essential mineral, Kelp is nature's best source of iodine and contains an array of other beneficial nutrients. Function: Kelp is high in iodine, a mineral that is essential for the creation of thyroid hormones.
Coenzyme Q10 (CoQ10)
Amount : 20mg
CoQ10 is a fat-soluble, vitamin-like nutrient which is crucial to the system that provides energy to cells of the body. The ubiquinone form of CoQ10 is fully oxidized and is key to enhancing CoQ10 status in the body. Function: Ubiquinone works in the mitochondria – also known as "the powerhouse" – of the cells to move electrons and generate energy. It also functions as an antioxidant. It is linked to improved cardiac health, improved cholesterol, reduced fatigue and may act as a neuroprotectant.
Red Marine Algae
Amount: 485mg
A rich source of natural calcium, magnesium and multiple Trace Minerals, harvested from the North Atlantic seabed Form: Red marine algae in the form Aquamin®F (lithothamnion sp) is a nutrient-dense multi-mineral. This provides not only an important natural source of minerals, including calcium, but also a complex of synergistic minerals and trace nutrients, boosting overall health. Function: Around 80% of adults don't consume enough calcium and over 60% consume insufficient amounts of magnesium.
Apple Pectin prebiotic
Amount: 250mg
Pectin fibre from the fruit of Malus pumila Form: Most products use inulin or Fructooligosaccharides (FOS) as a source of prebiotic fibre. Nuzest uses Apple Pectin, a prebiotic that's gentle on the digestive system, making it suitable for those sensitive to fibres and starches. Function: Apple Pectin is the superior prebiotic fibre that improves bacteria status, resulting in better gut health, reduced cholesterol levels and improved nutrient absorption.
Microbiotics
Amount : 8billion CFU
Form: The two strains of probiotic bacteria that we have included, Lactobacillus acidophilus and Bifidobacteria lactus, naturally occur in fermented foods and in nature. The combination of beneficial bacteria with plant phenols in Good Green Vitality provide synergistic benefits in the body. Function: Live probiotic bacteria are essential to regulated digestion and gut health, immune function and boosting resistance to illness.
Bromelain Dietary Enzymes
Amount: 60mg
With a long history of use in digestive health, we selected dietary enzymes from the stem of the pineapple plant as it contains the highest concentration of complex enzymatic compounds known as 'bromelain'. Function: Bromelain aids digestion and is considered to exert anti-inflammatory and antioxidant properties.
See More
We're all about transparency
Reviews by real people. Learn more.