Clean Lean Protein Sachets Is Loved by Customers
100%
of reviewers would recommend this product to a friend
Reviewed by Patsiri Kaew B., from United Kingdom
Verified Buyer
I recommend this product
Product Standouts
Digestability
Quality of ingredients
Nutritional profile
Blendability
Ease of use
Great taste
Just try Nuzest clean lean protein and I love it so much.
Reviewed by Emilie F., from United Kingdom
Verified Buyer
I recommend this product
Product Standouts
Purity
Blendability
Nutritional profile
Quality of ingredients
Digestability
First time I ordered Nuzest and not the last!
The taste is pure and super good. The ingredients are naturals. It's suitable for everything, like pancakes, waffles, porridge (so good in a smoothie though, just with a banana and some water, it's awesome), I tried the Chocolate flavor and from the samples I tried matcha vanilla, cappuccino and Chai Maca, so so so good! All the flavors are amazing. I recommend!
Reviewed by Ricardo G., from Portugal
Verified Buyer
I recommend this product
Product Standouts
Digestability
Blendability
Ease of use
Great flavor and amazing texture.
It gives a nice feeling of satisfaction without feeling heavy on stomach.
FREE SHIPPING when you subscribe
Receive 10% off your first order and 10% off each order after when you sign up for autoship.
LOOK, FEEL & PERFORM YOUR BEST

Our unique formula is suitable for all diets and all ages. Protein is an essential nutrient required by every cell in the body.

HEALTHY WEIGHT MANAGEMENT

High in protein and low in carbohydrates to help you feel fuller for longer.

MUSCLE REPAIR & RECOVERY

Contains all nine essential amino acids and provides the building blocks for vitality, repair, recovery and muscle growth.

DIGESTIVE RELIEF

Light on the stomach and easy to digest resulting in less bloating.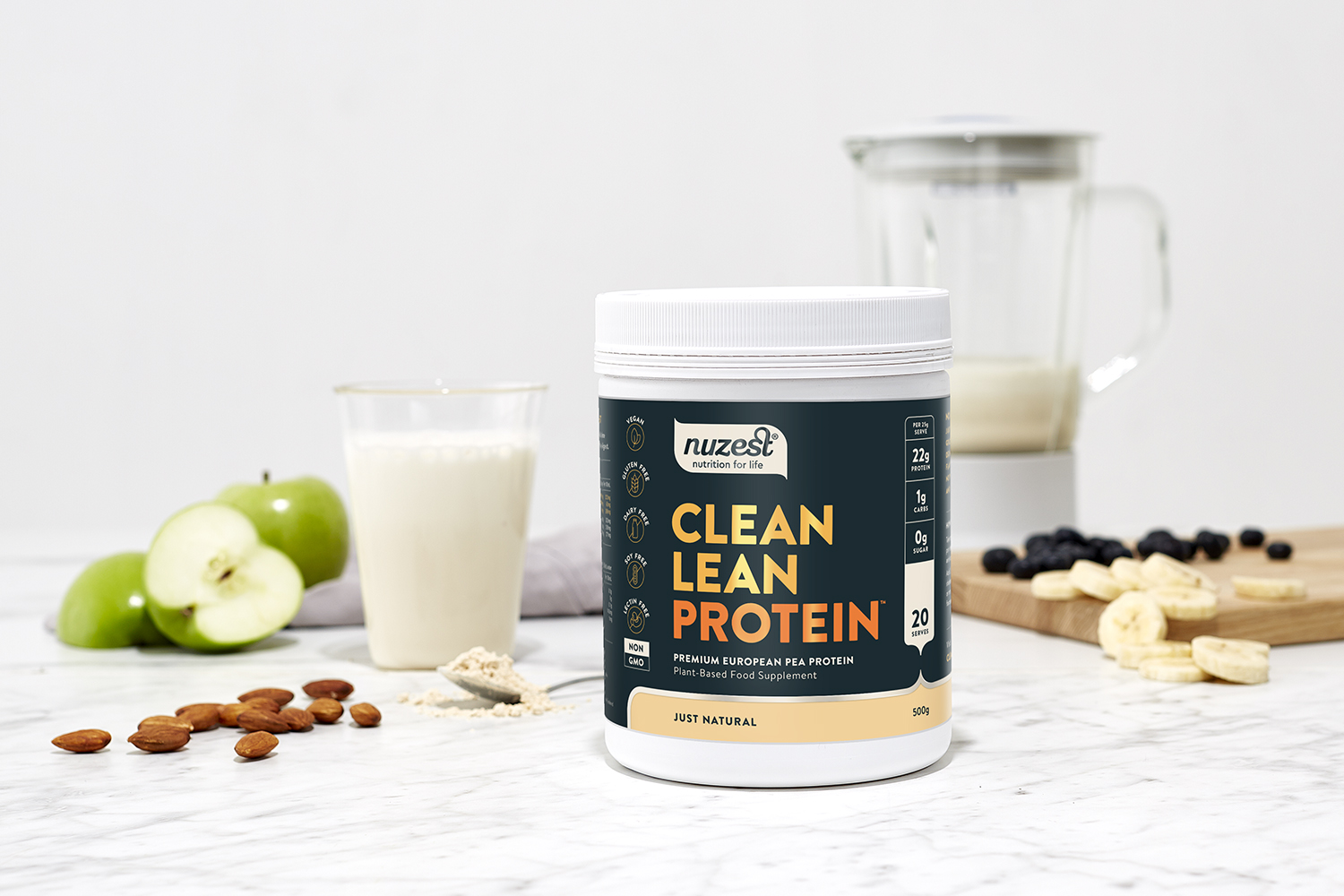 Premium
European
Golden Pea
Protein
Protein

Carbohydrate

Sugar

Fat
Made from the highest quality European golden peas, Clean Lean Protein is the environmentally friendly choice. Complete with all nine essential amino acids, it is a natural source of iron, tasty and easy to digest.
From seedling to shop floor, we use the cleanest growing, flavouring and manufacturing methods available – meaning no chemicals, no additives and no preservatives.
On top of this, every batch of Clean Lean Protein is tested for safe microbial activity, allergenic substances and heavy metals. Everything is certified gluten free and GMO free.
Smooth Vanilla Nutritionals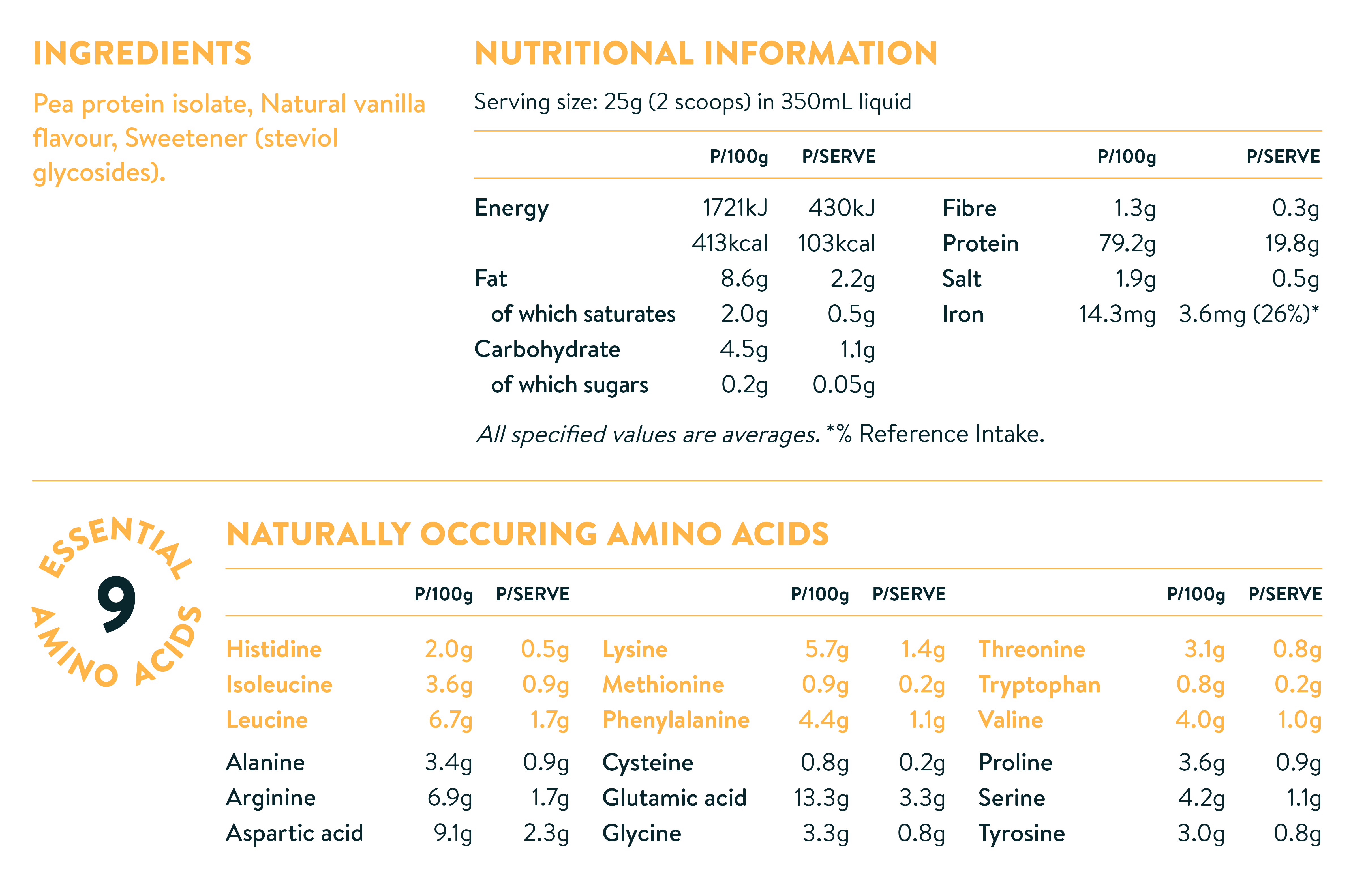 Rich Chocolate Nutritionals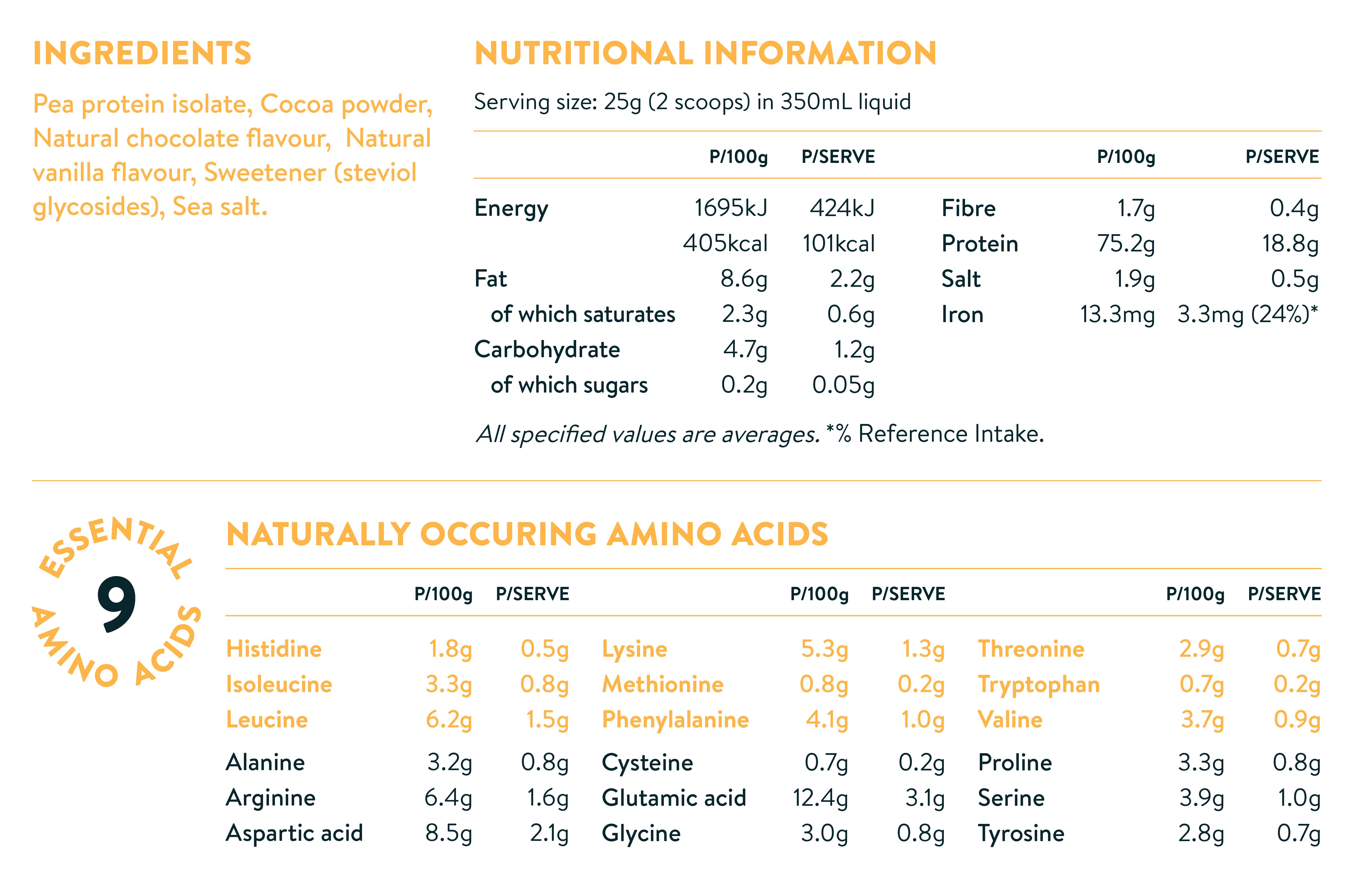 Rich Chocolate Nutritionals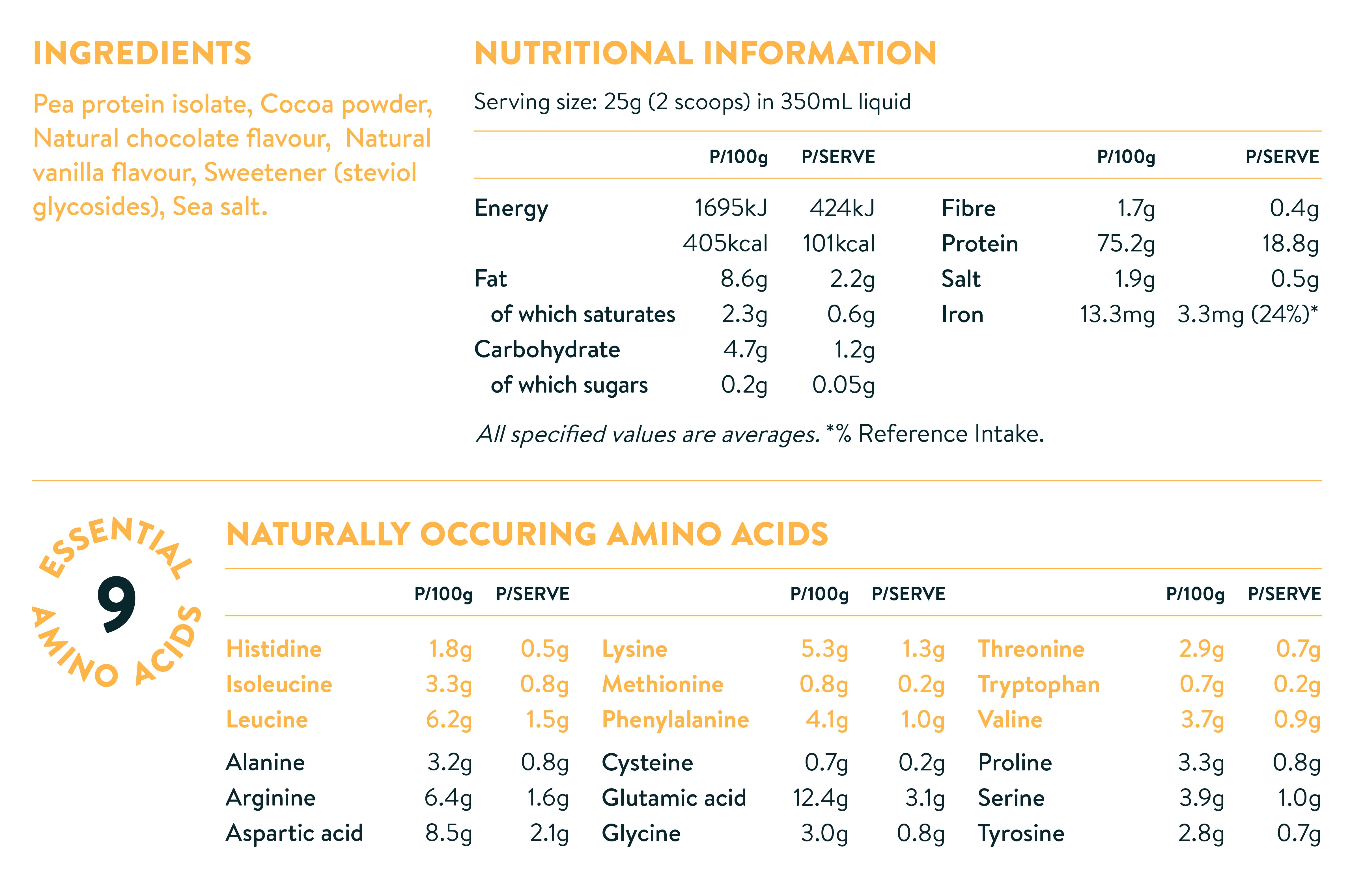 Just Natural Nutritionals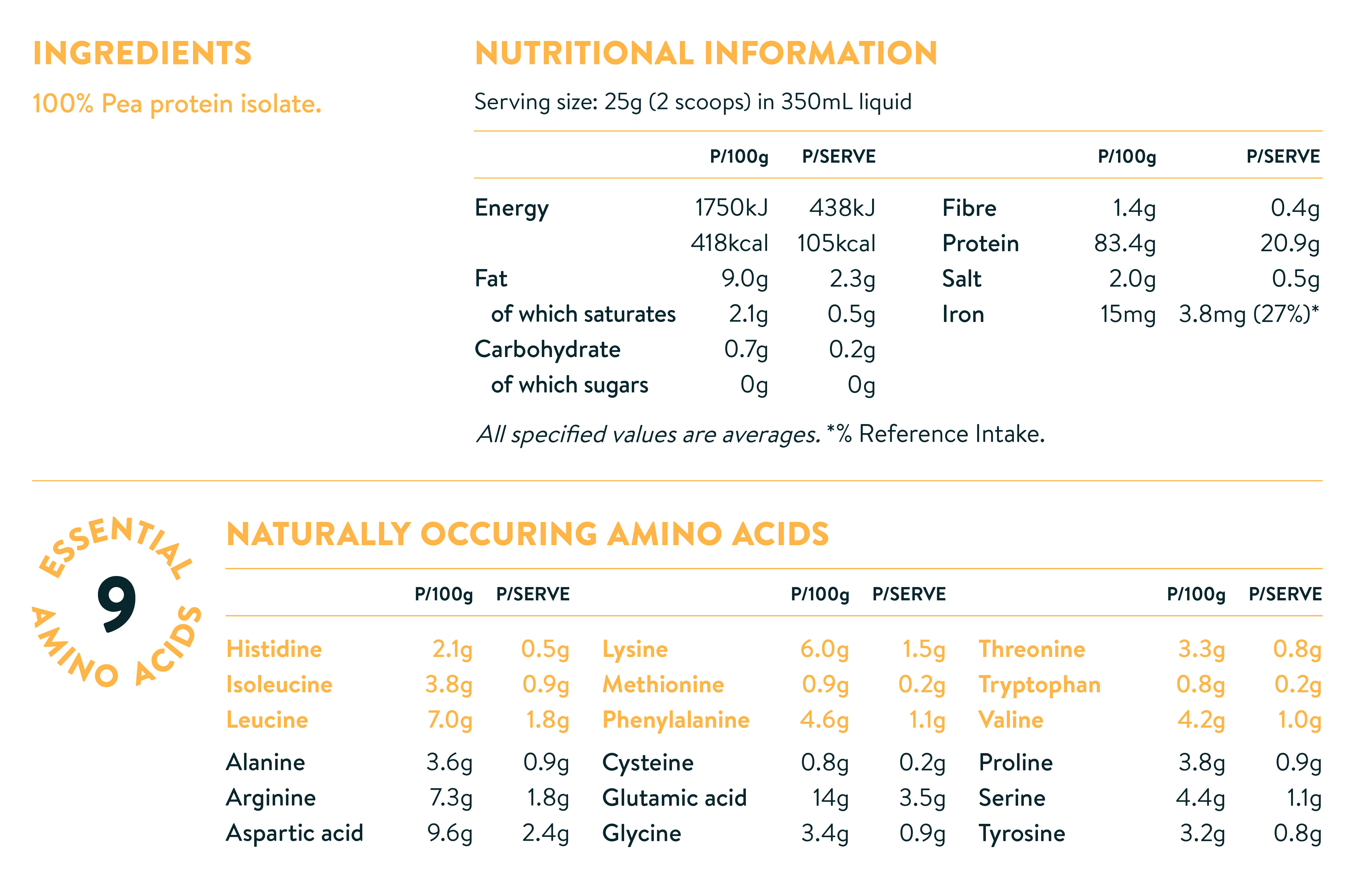 Wild Strawberry Nutritionals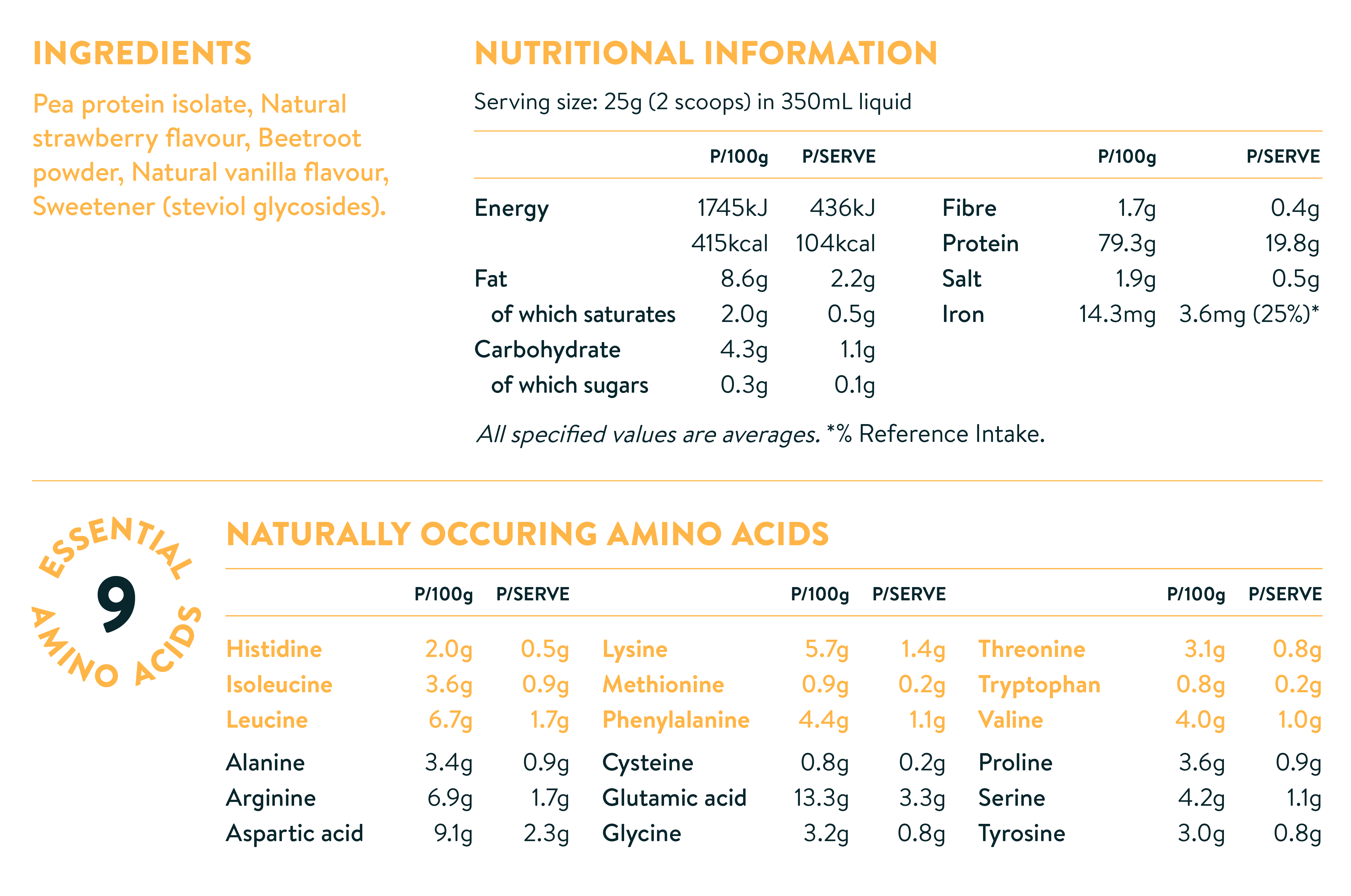 Real Coffee Nutritionals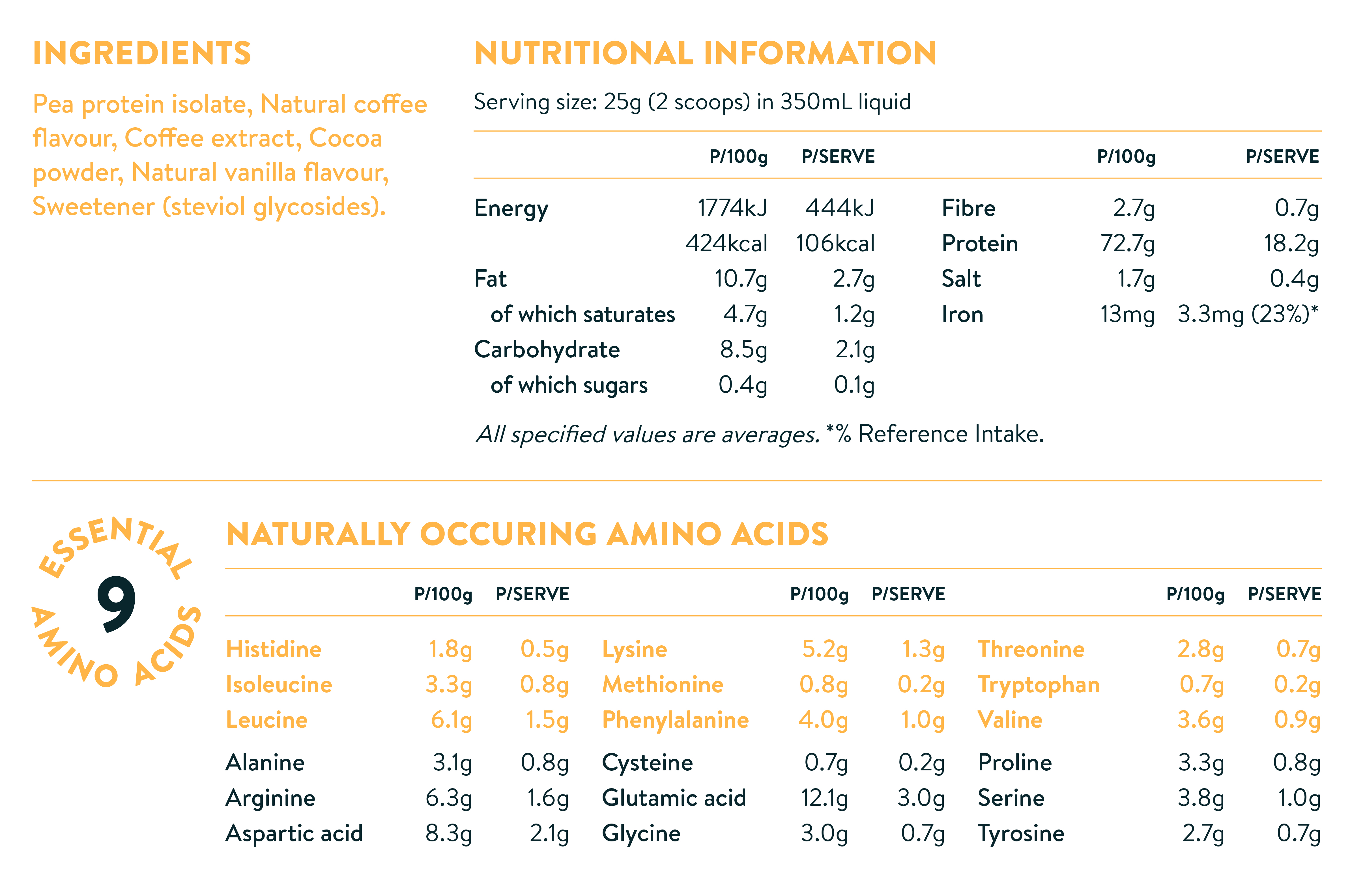 Coffee Coconut + MCTs Nutritional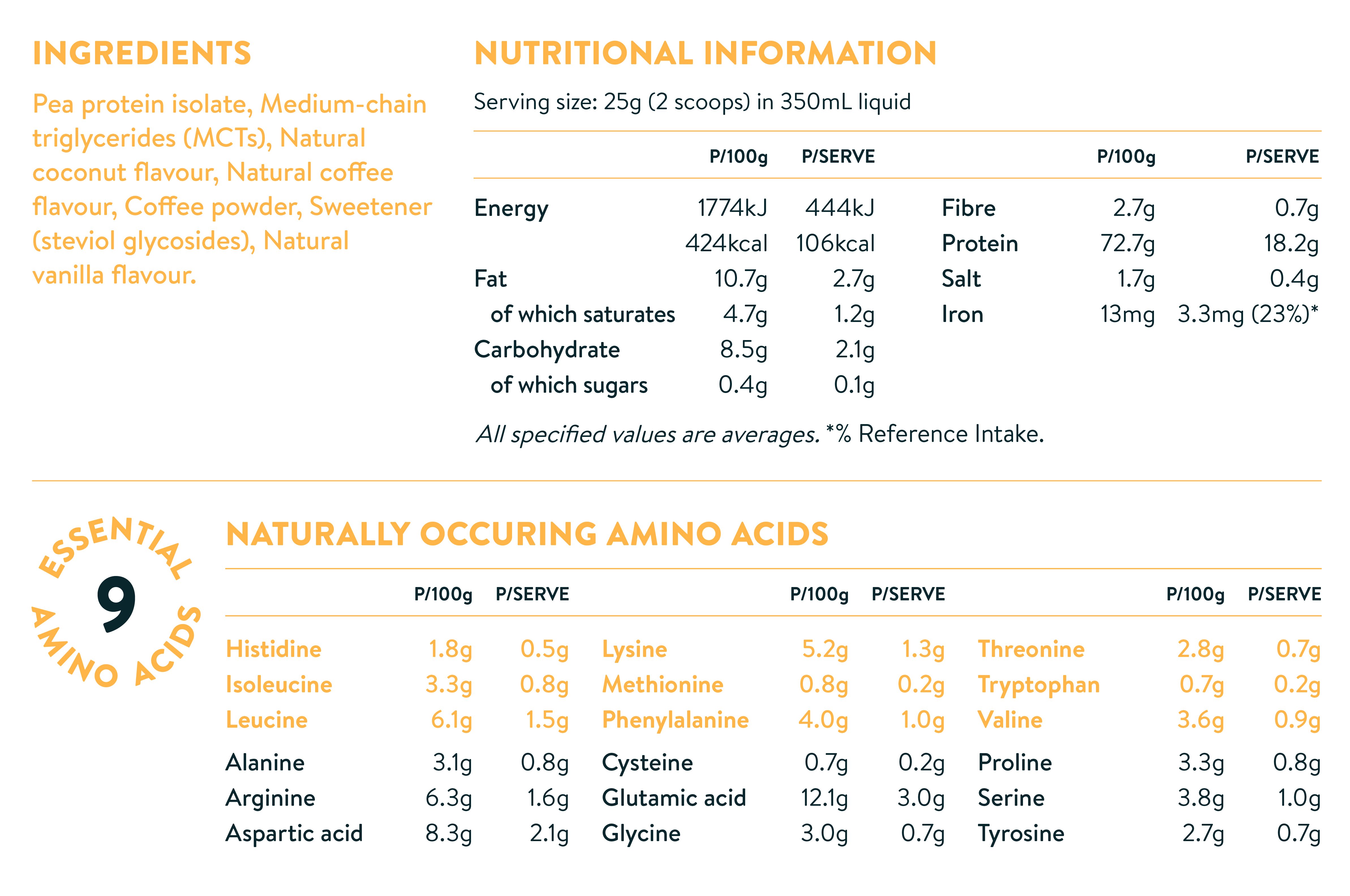 Chai Turmeric + Maca Nutritionals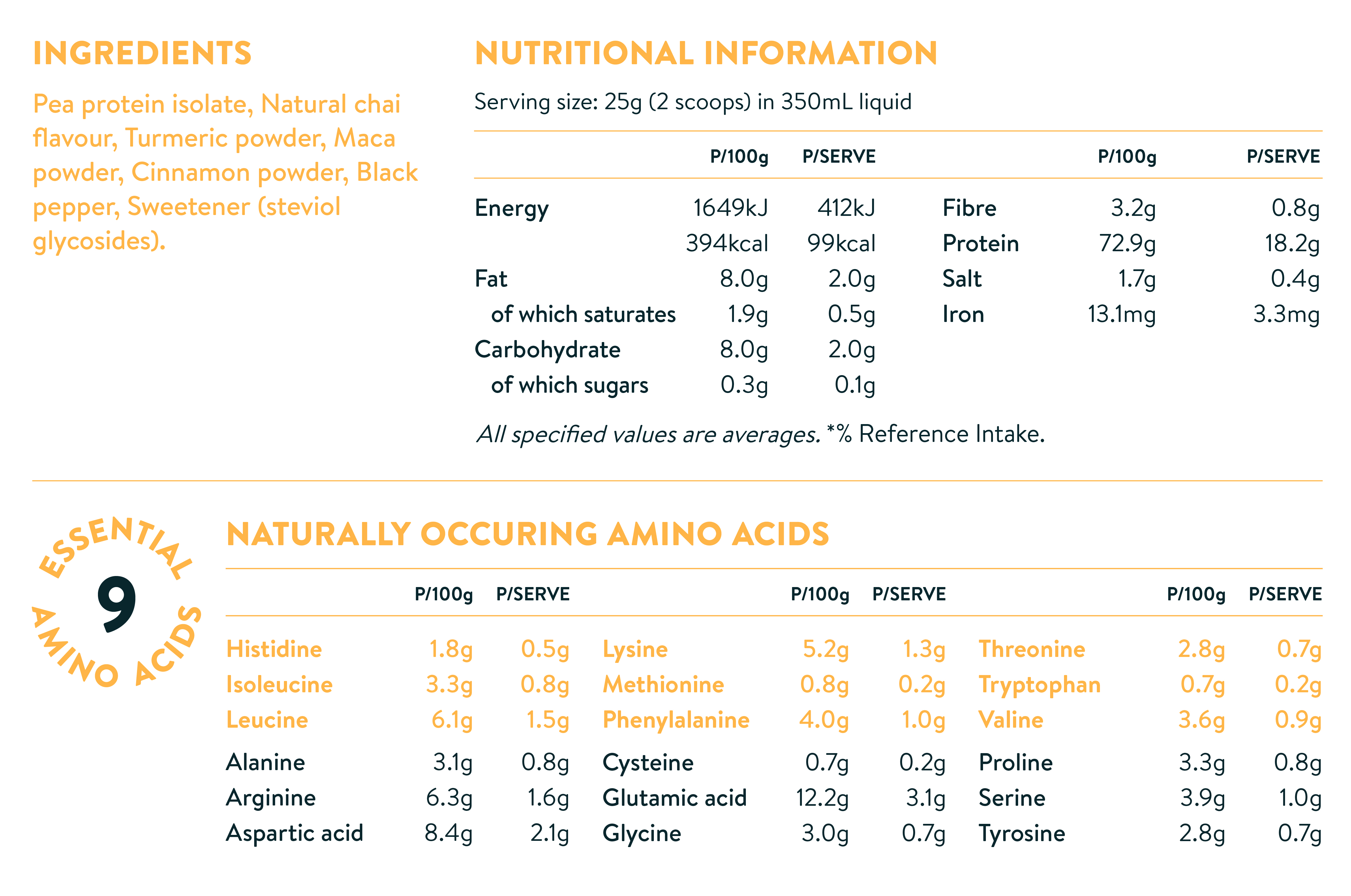 Vanilla Matcha Nutritionals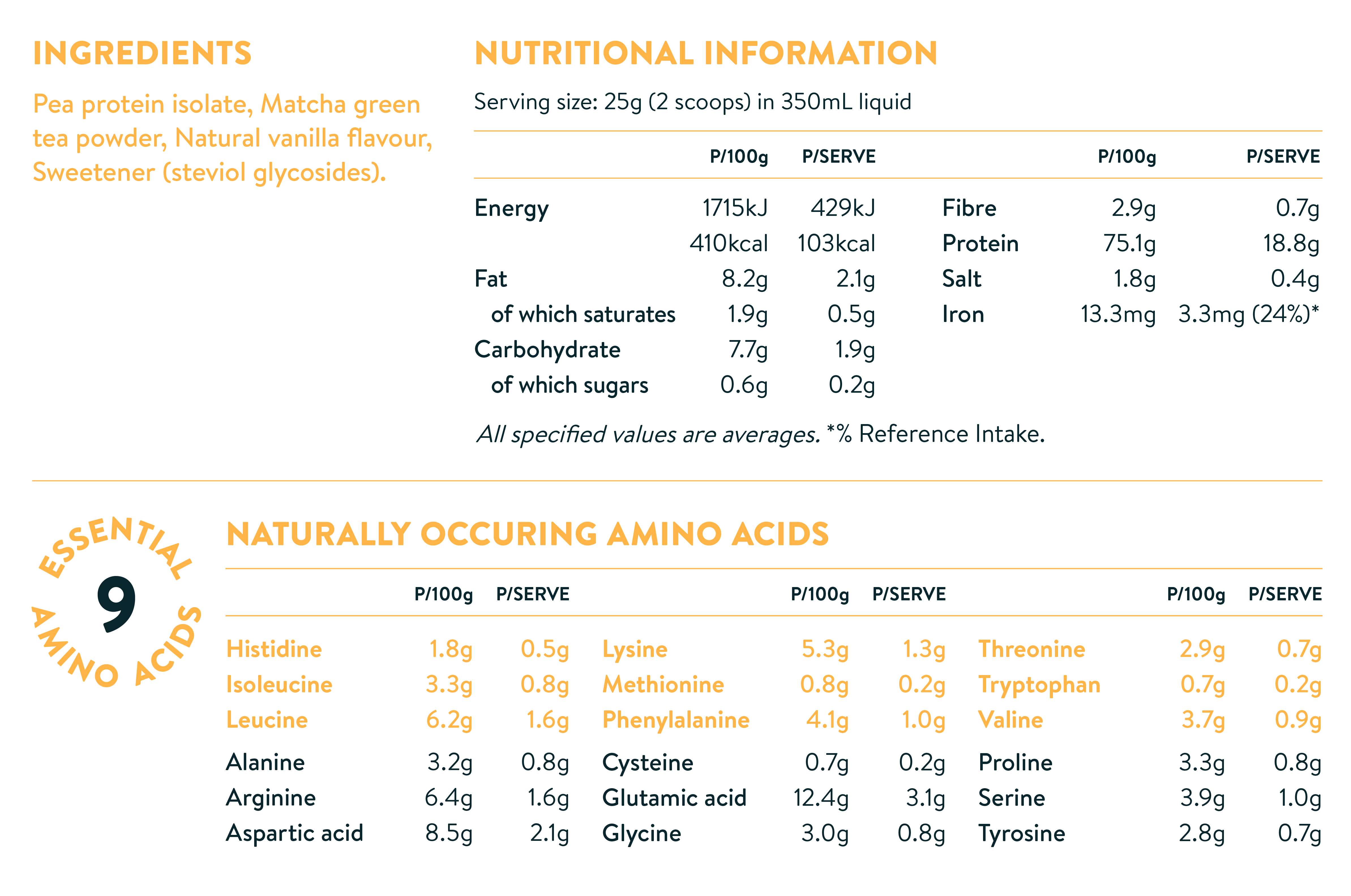 Shipping
HOW LONG WILL IT TAKE FOR MY GOODS TO REACH ME?
Shipping costs are calculated based on the size and weight of the product and your location. Exact shipping costs are calculated in the shopping cart and will be added to the order total before checkout.
**IMPORTANT COVID-19 UPDATE**
In the current challenging circumstances we are doing our best to make sure things keep running as smoothly as possible, however we have had to make some amendments to our usual delivery services. Please note that it may currently take between 3 and 5 working days to dispatch your order. 
UK Standard – There may be a delay on your order as a result of couriers experiencing delays due to the Coronavirus situation. 
With all orders you will be sent a tracking link via email so that you can keep track of your order at all times.
Whilst we aim to process your order promptly and despatch within 1 working day, we are experiencing high volumes of orders and some orders may take longer. If you have not received your order within 10 working days, please contact us at hello@nuzest.co.uk
Next Day delivery – We are suspending the guaranteed delivery service at the moment, due to our delivery partners experiencing delays as a result of the Coronavirus (COVID-19) situation.
Europe – Due to some restrictions in European countries we are currently unable to guarantee delivery to all European addresses. Please contact us if you would place an order to a European country and we'll check the availability at that time. 
Changes to our delivery procedure 
Items requiring signatures - In order to protect customers and staff, our delivery partners are minimising contact during delivery.  The courier will not be handing over hand-held devices to customers to capture signatures but instead will log the name of the person accepting the item.  Additionally, for all customers where we need to deliver any item that won't fit through your letterbox, the courier will place your item at your door. Having knocked on your door, they will then step aside to a safe distance while you retrieve your item. This will ensure your item is delivered securely rather than being left outside. 
WHAT IS YOUR REFUND POLICY? 
We always value your feedback on our product and if there is anything wrong with it we are happy to offer you a full refund. Given the high standards we expect from our products, we ask that you fill in our survey to help us determine any defect. We will also have the product tested against other products in the particular batch. If a defect is found, we will issue you a refund. Please contact us on hello@nuzest.co.uk.
CAN I CANCEL AN ORDER?
If for some reason you need to cancel your order, please email us at hello@nuzest.co.uk, if we have not dispatched the product we may be able to ref und your money. If you need to make changes to your order you can also go through the same process.
MY DELIVERY SHOULD HAVE ARRIVED BY NOW, IS THERE A WAY I CAN TRACK IT?
If you think your goods should have arrived you can email us on hello@nuzest.co.uk and we will chase it up for you. How can I be sure that my order has gone through? You will receive a confirmation email shortly after placing your order and making payment. Your order confirmation will be sent to the email address supplied. If you didn't receive an order confirmation and are concerned your order didn't go through, you can email us at hello@nuzest.co.uk and we'll have a look for it and get back to you.
I DON'T LIVE IN THE UK - CAN I STILL ORDER FROM YOU? 
www.nuzest.co.uk ships to all locations in the UK.
We are currently unable to process orders for delivery to Europe as a result of being unable to guarantee delivery due to restrictions in place as a response to COVID-19 (Coronavirus).
For all other regions, you can order through one of our international sites. Region selection can be made here at our global site www.nuzest.com
HOW TO USE Clean Lean Protein Sachets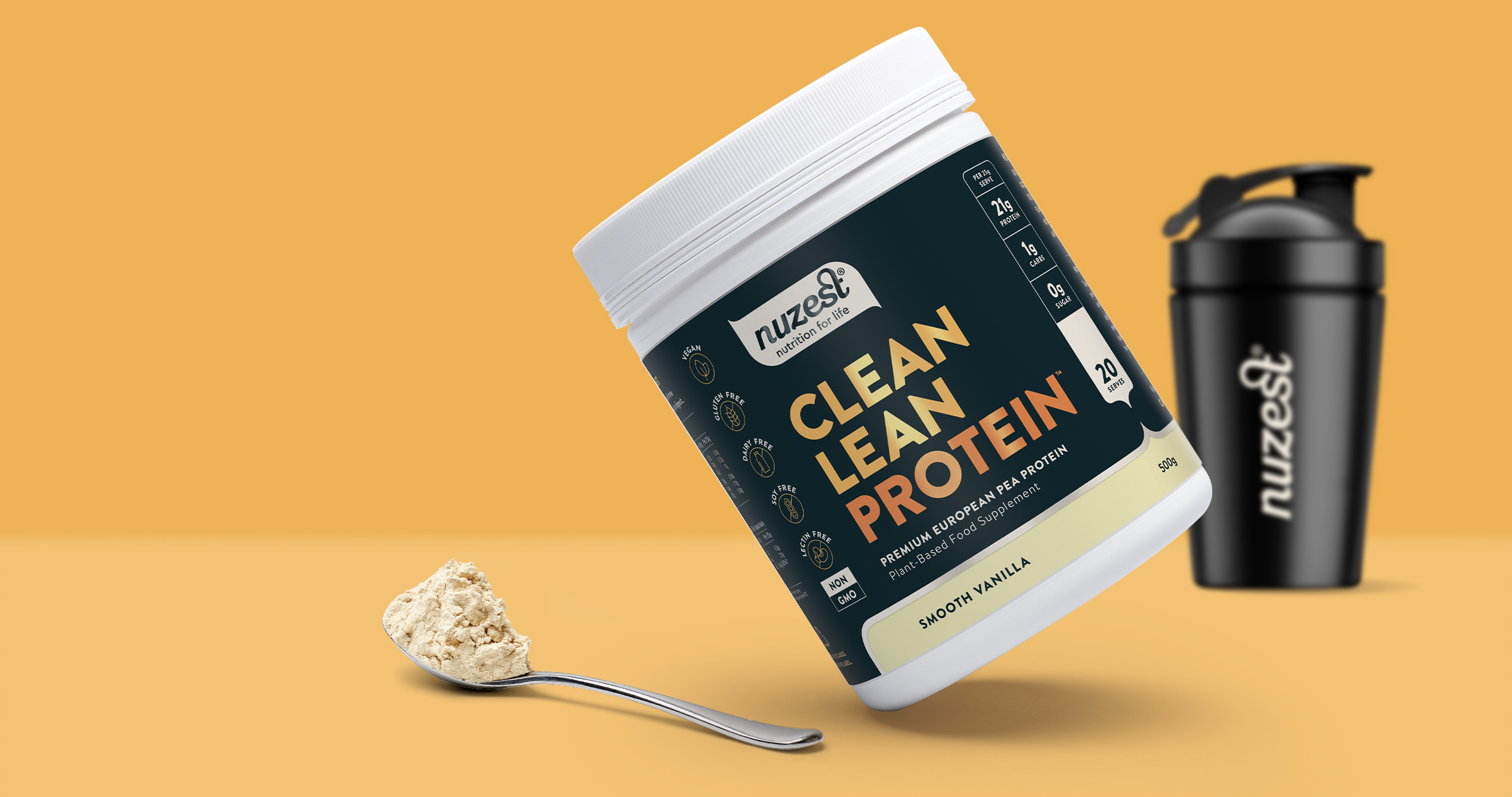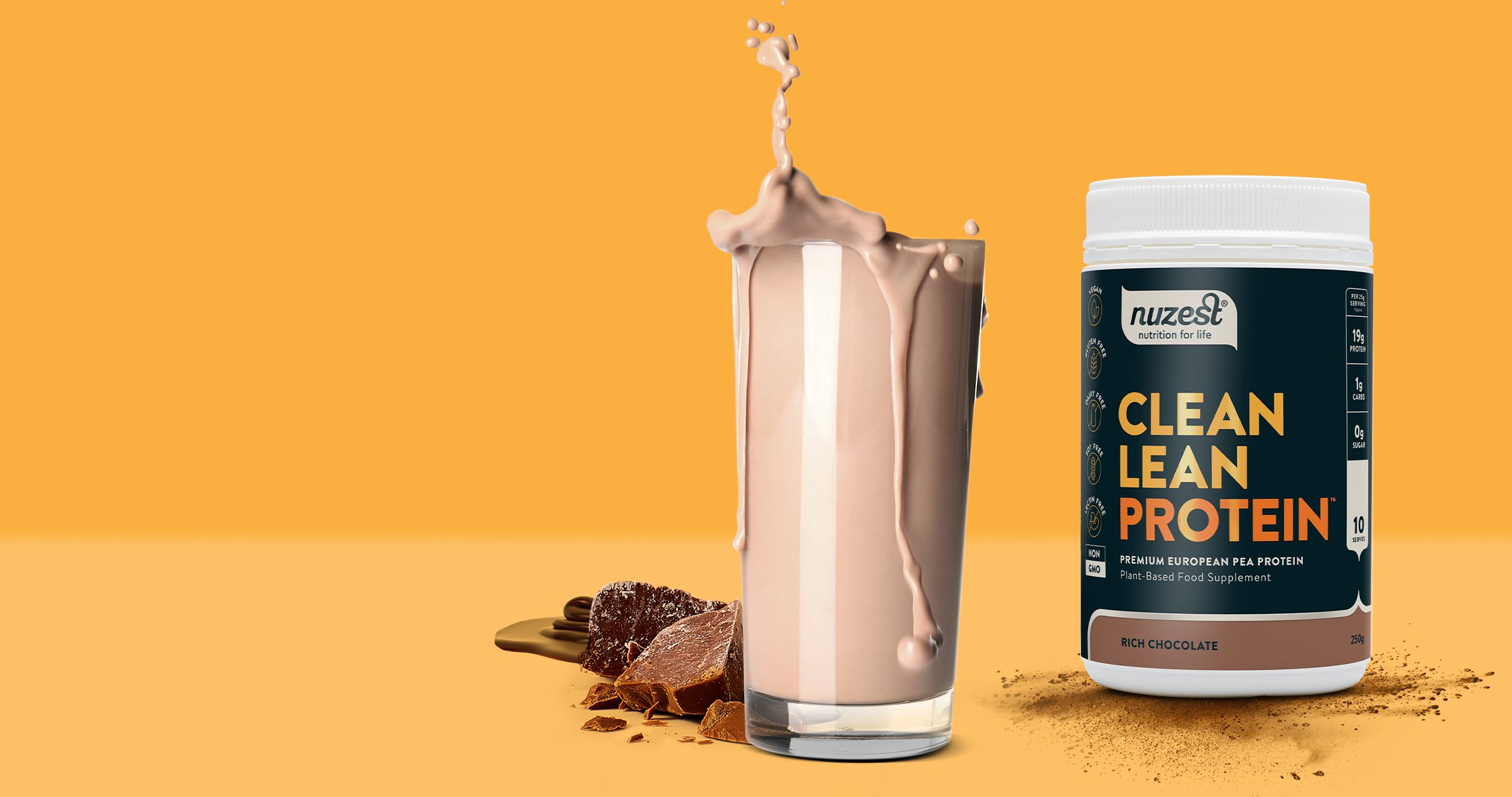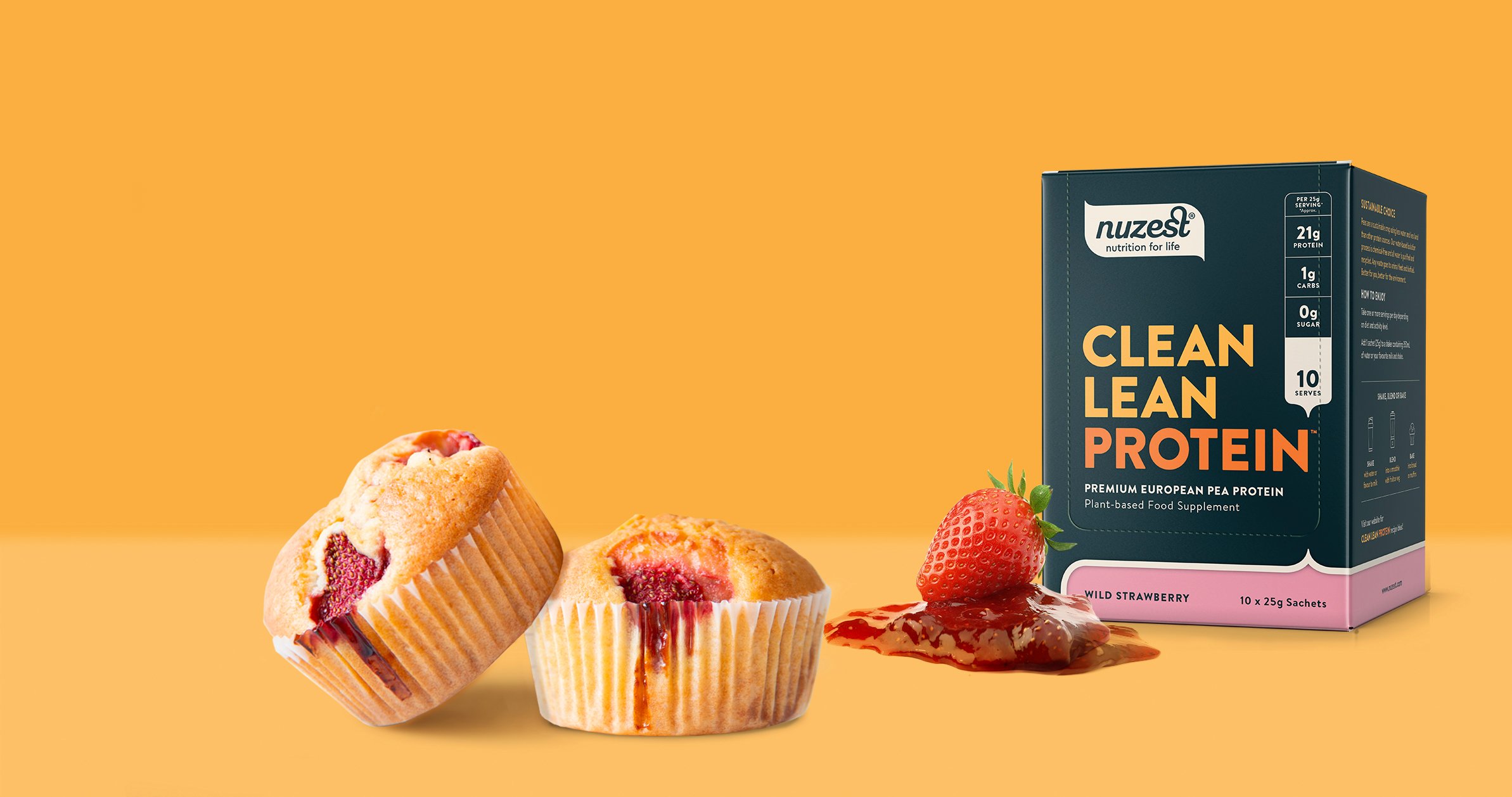 Clean Lean Protein Sachets FAQS
What is the pH level of Clean Lean Protein?
If you follow or are considering following an alkaline diet, then Nuzest Clean Lean Protein is an ideal choice to add to your daily food intake. Nuzest Clean Lean Protein, made from golden pea protein isolate, is the world's ONLY alkaline protein with a pH reading of 7.8!
Where do you source your peas for the pea isolate and where is the powder is manufactured?
We have deliberately chosen pea protein and to source that protein from Europe. The soil, air and water quality of Northern France are generally regarded to be very safe for growing and the process used for isolation is completely free of chemicals. Consumers can feel confident they are selecting a safe vegan protein, rather than fear they are ingesting a protein powder tainted with contaminants.Yes. Clean Lean Protein is certified gluten free so it is safe for coeliacs.
Are there any sweeteners in any of your protein powders?
Clean Lean Protein is naturally sweetened with a fruit protein derived from a West African plant called the Katemfe Fruit (African Serendipity Berry). The protein is known as Thaumatin. Thaumatin is a protein, but it is classified as a natural sweetener. It is digested in your body just like any other protein.
Is Clean Lean Protein ok for people with Crohn's disease or Ulcerative Colitis?
Due to the absence of FODMAPs, anti-nutrients, allergens, and gastric irritants, Clean Lean Protein is the perfect protein for people with Crohn's Disease.
How much protein should I be taking after a workout?
This depends on the length of your workout, what your workout consisted of, and your physical size, along with your dietary structure and goals. As a rough rule of thumb, around 1/2 gram of protein per kilogram of body weight consumed within 30 minutes will help encourage recovery and repair of muscle tissue.
Is Clean Lean Protein vegan?
Yes, it is vegan. The peas used in Clean Lean Protein are a vegetable source and the natural flavourings are all plant derived, making Clean Lean Protein 100% vegetarian and vegan.
THE BEST POWERED BY NUZEST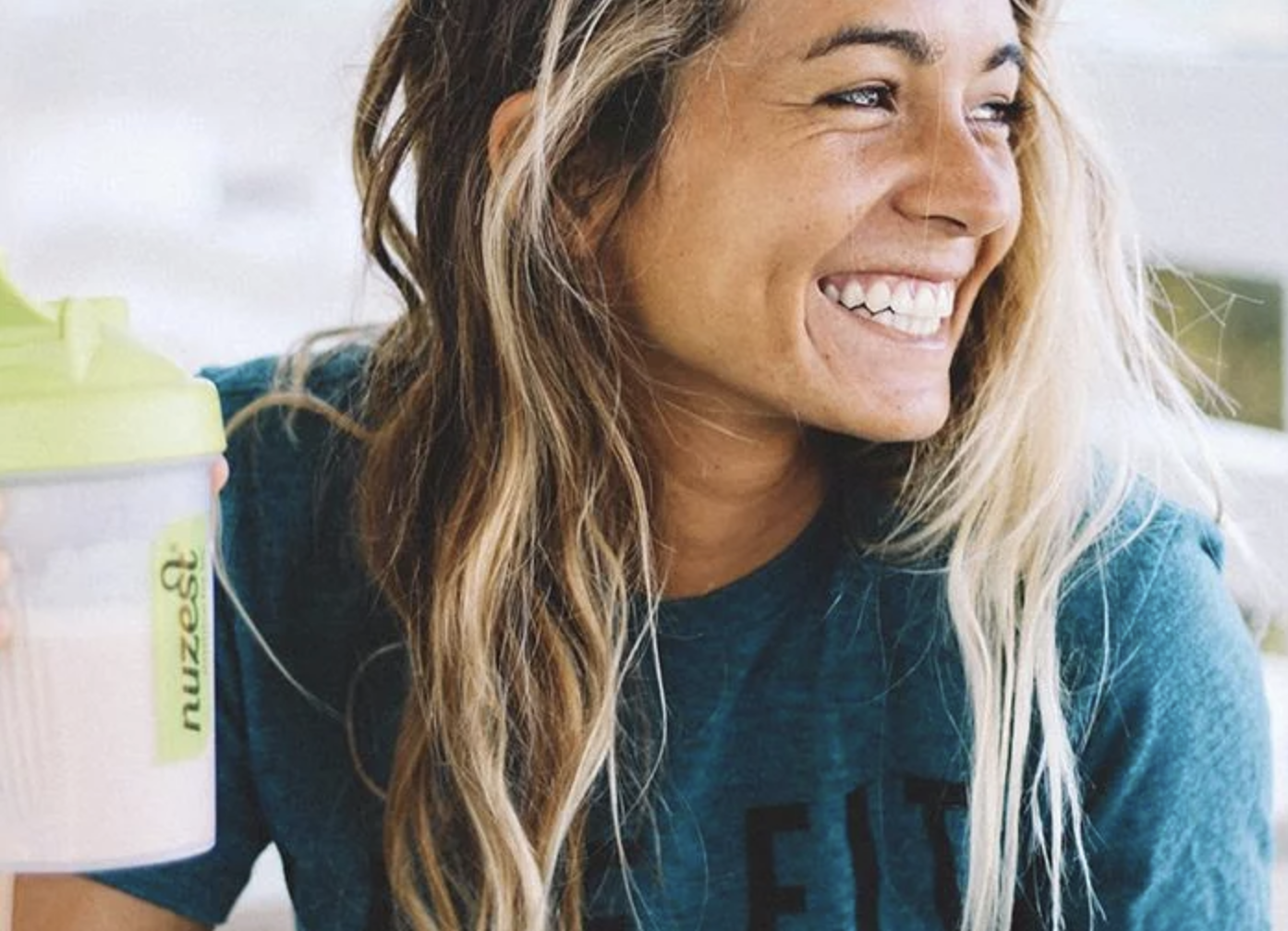 Brianna Cope - Pro Surfer
"Whether it's surfing or working out, I am always on the go! I needed a simple and effective way to get in my protein. With Nuzest, I feel I hit a home run!"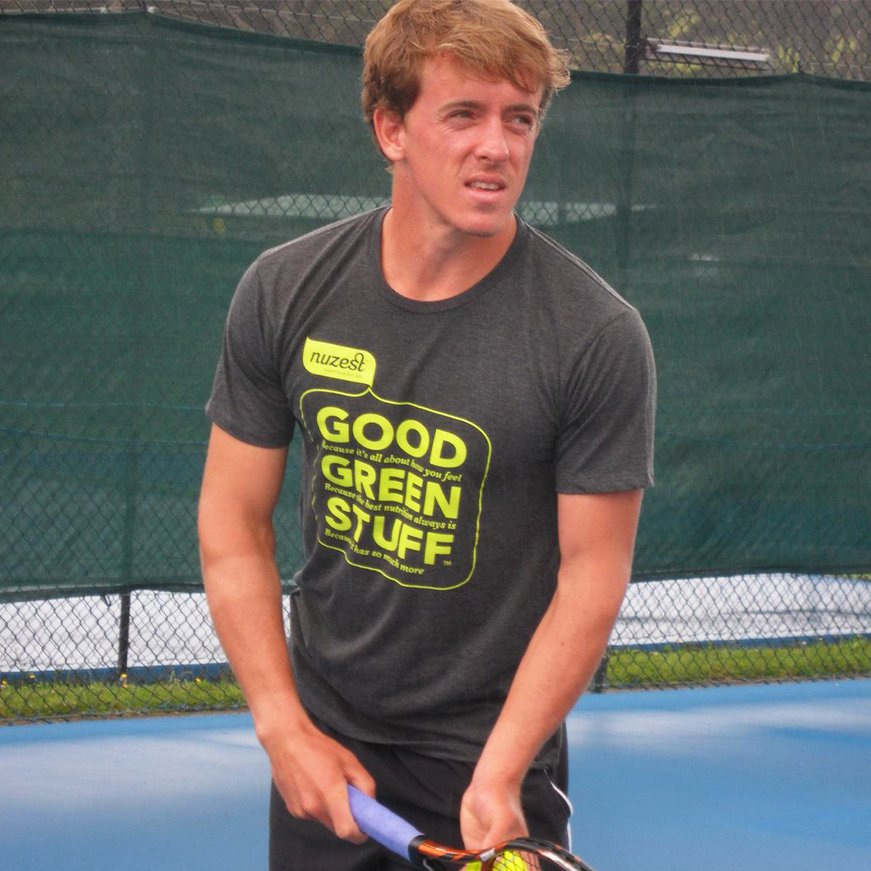 Rubin Statham - Professional Tennis Player
"I started Clean Lean Protein and now, my trainer, coach, team, and friends are commenting on how much my body has changed. I can feel it performance-wise, testing my best with speed/agility times, and weight lifting capacity."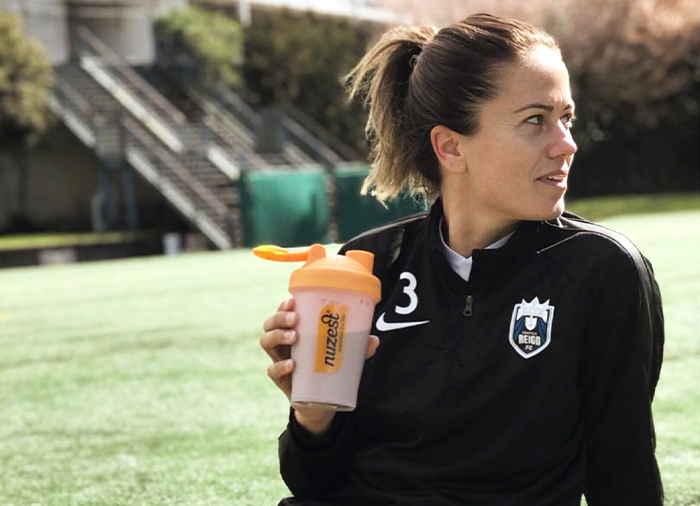 Lauren Barnes - International Soccer Star
"I take my Nuzest protein with me everywhere and I couldn't be more happy with it."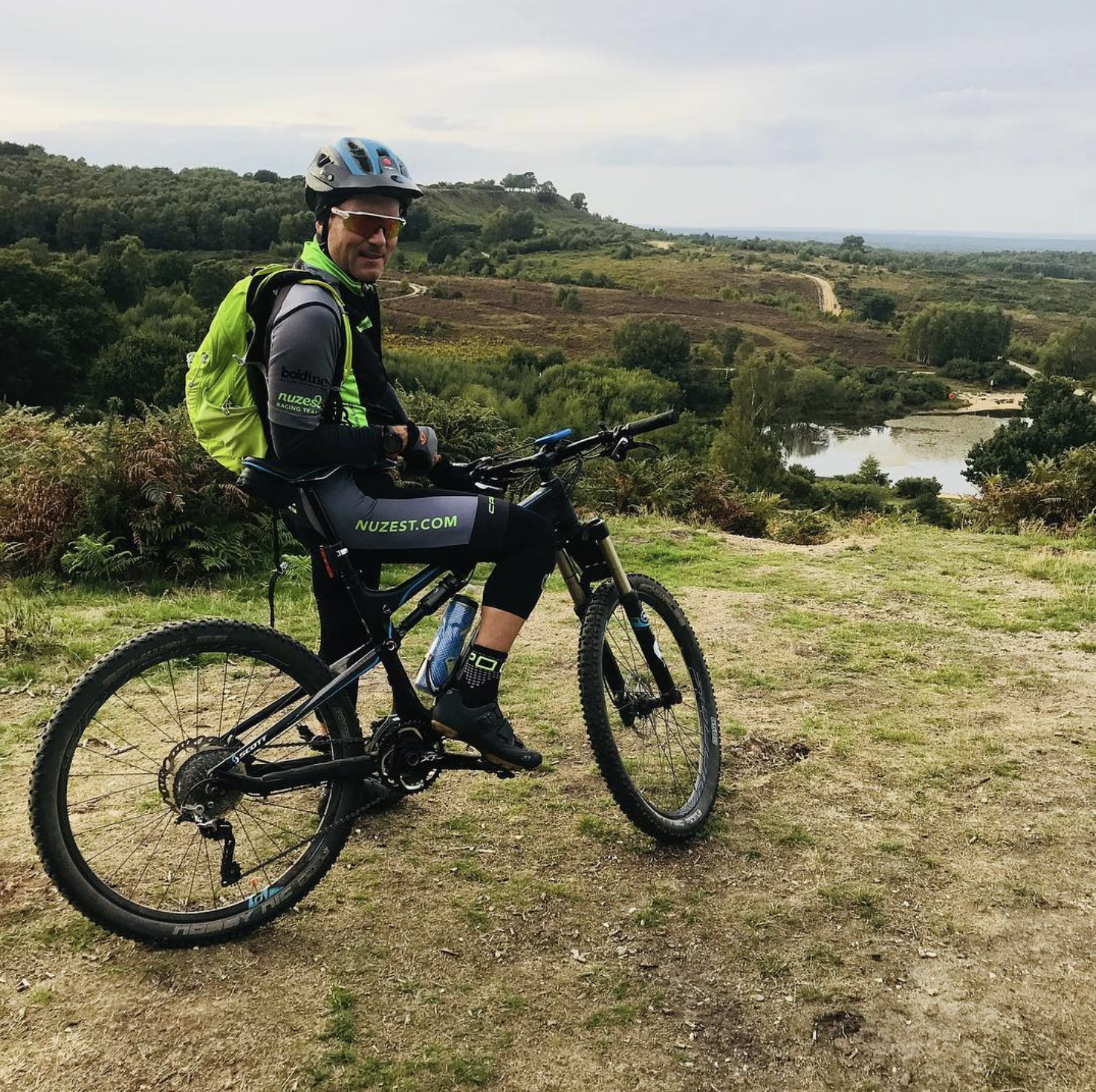 Robert Verkerk, PhD Practitioner & Author
"Like many, my life is hectic both work-wise and family-wise. I'm also physically very active. I wouldn't be without the simplicity of Clean Lean Protein. Clean Lean Protein helps me with my low-carb, ketogenic lifestyle and is vital for muscle growth and repair."